Arcade P2E GameFi platform enables token holders to earn rewards on their metaverse without requiring any gameplay or NFT ownership. Arcade enables holders of the $ARCADE token to earn significant rewards from a variety of P2E metaverse games without having to actually play the game themselves. And, they don't have to collect the payments or NFTs either. Arcade manages the entire process for all their token holders, by using the strategic infrastructure of guilds, game developers, and players. The in-game rewards are then passed on to their token holders. Arcade takes care of all the gameplay, payments, and updates while you sit back and collect.
Arcade's mission has been to make the process easier for everyone. You don't have to be a gamer, technical in any way, or even a crypto expert. Arcade has lowered the barrier to entry by creating a place where investors, players, game developers, yield chasers, and everyone else can earn and grow together so everyone benefits.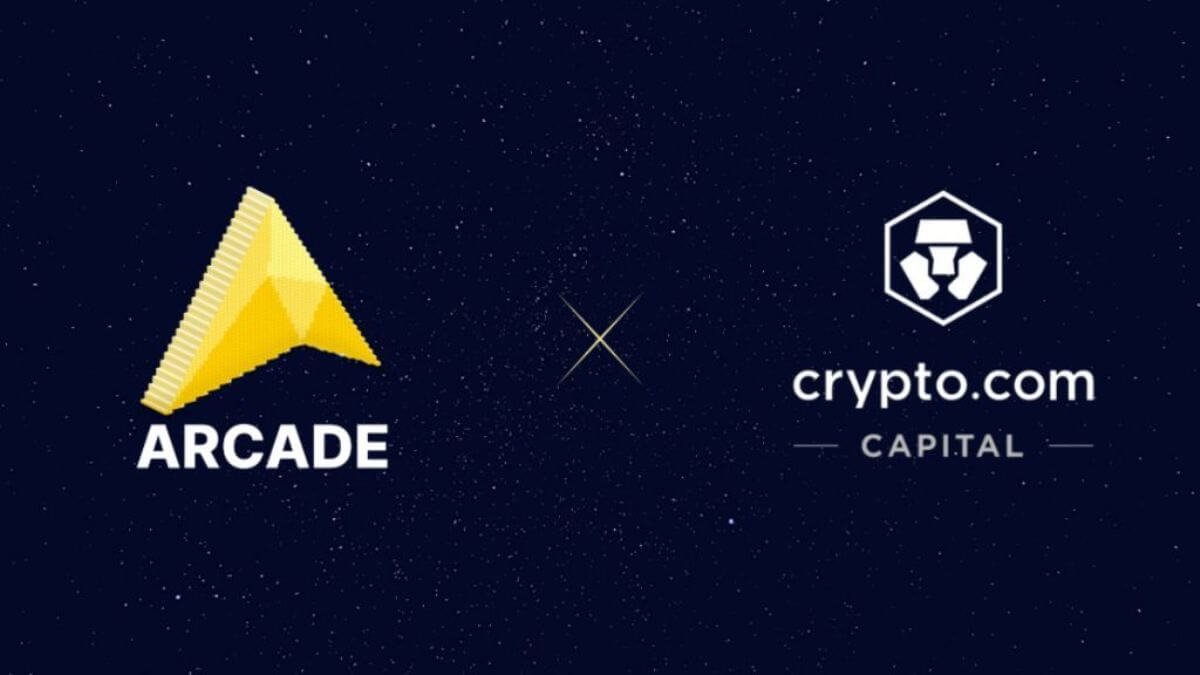 Arcade, a GameFi platform, forms a strategic partnership with Crypto.com Capital (the venture arm of Crypto.com) to advance play-to-earn gaming, GameFi, and metaverse adoption.
Founded in 2021, Arcade is a GameFi platform that allows token holders to earn rewards from Play-to-Earn metaverse games without requiring gameplay or even NFT ownership.
According to the agreement, Crypto.com Capital will become Arcade's lead backer. Crypto.com mentioned that Web 3.0 powered by cryptocurrency will be the future of the internet and fairer and more equitable; owned by the builders, creators, and users.
Bobby Bao, MD of Crypto.com Capital, commented:
"Arcade is bringing an entirely new perspective to play-to-earn gaming by allowing anyone to access games without even needing to play or own assets directly. We're proud to back this disruptive project by leading Arcade's funding round."
The partnership will soon bring several benefits to users of both the platforms such as: lowering the barrier of entry to play-to-earn games, getting rewards, blockchain education, welcoming newcomers into the GameFi space, and allowing anyone to participate in the metaverse.
Blockchain technology is attracting a lot of interest from game developers looking to create new and interesting online gaming experiences. According to a recent survey of video game developers, the most prioritized elements of blockchain technology are 'GameFi,' the introduction of decentralized finance to games, and 'Play-to-earn,' an economic model that rewards players with real-world financial value.
Going forward, the two crypto companies intend to lower the barrier of entry for play-to-earn gaming and simplify the GameFi experience.
Commenting on the joint venture, Arcade's CEO, Josh Poole, said:
"Having support from Crypto.com Capital as the lead backer is a big deal for the future of GameFi. As one of the world's leading exchanges and drivers for crypto adoption, they educate newcomers into the crypto industry every day."
More About the GameFi Platform Arcade
PRESS RELEASE
GameFi platform Arcade is expanding its full-scale economic ecosystem for play-to-earn (P2E) gaming through mission pool operators that can lease nonfungible tokens (NFT) to perform in-game activities, bringing more value to all Arcade participants.
Arcade is on a mission to provide P2E inclusion to a global audience, even those not actively gaming. Through its approach, Arcade is helping all contributors earn from GameFi opportunities without participating in gaming activities or guilds. Instead, the GameFi platform matches gaming assets to players and distributes rewards among platform users favoring reliable and passive returns. 
What Are GameFi Arcade Mission Pools?
Powering this vision are the mission pools, which anyone can join to partake in ecosystem rewards. Joining a mission pool involves staking gaming NFT assets that reward fees and rewards accrued by the Arcade protocol. In essence, the GameFi platform introduces index-like exposure to P2E gaming projects on various blockchains, including Solana, BNB Chain, Avalanche, Ethereum, Polygon, and more. 
What Are Arcade Mission Pool Operators?
Arcade expands the concept of mission pools by introducing mission pool operators, which can lease NFTs to perform in-game activities and engage in P2E mechanisms and interactions. Anyone can become a mission pool operator, including gaming guilds, esports teams, and professional gamers. The only requirement is utilizing a specific amount of Arcade tokens to operate a mission pool of choice. 
Becoming a mission pool operator ensures that in-game actions generate rewards for all participants in the mission pool. Other benefits include:
Guilds and esports teams that can attract skilled players.
Utilizing Arcade's NFT inventory to enhance game portfolios and reward-generating opportunities.
Gain clout for showing a commitment to Arcade and any mission pool uses. 
Turn a passion for gaming into a full-time profession.
And much more.
Arcade has established a global presence in more than a dozen regions and many languages. The team will continue to lower the entry barrier for P2E gaming and its rewards. Arcade's current focus is on lower-income communities known for producing top gamers. Additionally, these opportunities are accessible to anyone through the power of decentralization.
How Does Arcade Work?
Step 1
Buy $ARCADE from an approved exchange.
Step 2
Swap $ARCADE for $xARCADE which enables it to be staked.
Step 3
Use $xARCADE to enter reward pools which are known as mission pools here.
Step 4
The mission is executed by game players, which are managed by the guild, and draws rewards from P2D games.
Step 5
You will receive your $xARCADE back, plus your pro-rata share of the rewards that were extracted from gameplay in the metaverse.
Step 6
Repeat!
The Arcade Roadmap for Q2 of 2022
Analyze Metrics from V1 Mission Pools
V1 Arcade Platform Launch
Continue with V2 Platform Development
About Arcade
Arcade is the GameFi platform that allows token holders to earn meaningful rewards from P2E metaverse games, without requiring gameplay or asset ownership. Assets owned by Arcade and NFT investors are operated by players or guilds and in-game earnings are passed along via our revolutionary mission pools infrastructure. Arcade is the P2E ecosystem that brings game developers, guilds, players, and Arcade token holders together.
Founded in March 2021, Crypto.com Capital is the venture arm of Crypto.com and invests in Seed and Series A crypto startups. With US$500 million earmarked for investment, Crypto.com Capital intends to accelerate the growth of early-stage crypto startups.
Here Is Something Else You Might Like…
If you like horse racing, you will love DeRace virtual horse racing. It's just like traditional horse racing with a twist! Check it out!
___________________________________________________________________________________________________________
Free Crypto Training Workshop Starting Soon Here's How to Enroll…
Would you like to learn how to make money with Crypto? There are plenty of people doing it—why not you?
CLICK HERE NOW FOR A FREE ONLINE CRYPTO TRAINING WORKSHOP
This free training will give you a good foundation on Crypto and other important facets of the industry you need to know.
Via this siteArcade Play-to-Earn GameFi Metaverse with Passive Gameplay | Q2 2022 Platform Launch and this site